2021 Design Trends: Clearly Delineated Spaces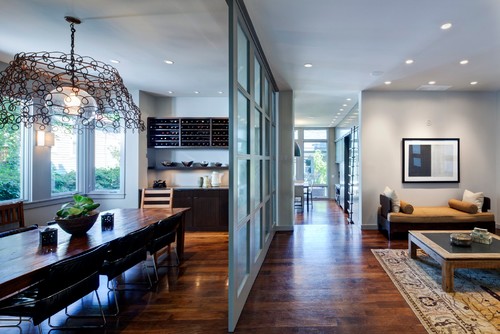 It's quaint to think back on our obsession with open floor plans. They're not completely passé (yet), but people are increasingly interested in closing off those wide-open spaces we so used to covet.
"The pandemic has completely shaped home design trends for 2020 and 2021," Isaacs says. "Not only do people want to create a cozy shared living space, but they also are carving out areas to have some space to themselves."
"The trend will be to create different living spaces within the open floor plan so people will have pockets or nooks in the home for e-learning, Zoom calls, a conversation, lounging, exercising, etc.," adds Julie Busby, founder of the Busby Group at Compass in Chicago.
The need for separate spaces is also shifting home buyers' priorities in the new year.
"New buyers are asking for homes with more separation, as sometimes multigenerational families share a home and need space and privacy amongst themselves," says Yorgos Tsibiridis, a Hamptons broker at Douglas Elliman.
DRE#01266522