Vacation-Home Sales are Getting a Pandemic Boost
By Gay Cororaton, Senior Economist, Director of Housing and Commercial Research, National Association OF REALTORS®

Vacation-home sales are outperforming total existing-home sales. Sales of homes intended for vacation use rose to 109,100 in the months of July–September, a 44 percent gain from the same period last year, according to the National Association of REALTORS® (NAR) estimates based on information gathered from the monthly REATORS® Confidence Index Survey[1] and NAR's existing-home sales estimates. In comparison, total existing-home sales during July–September rose 13 percent year-over-year (1.72 million in 2020 vs. 1.52 million in 2019).

The pandemic and low mortgage rates have increased the desirability and affordability of owning a vacation home. Buyers may be desiring a vacation home as a weekend getaway, since urban-based leisure activities are still constrained by social distancing. The ability to work from home means many buyers can spend more time at and enjoy their vacation home. Historically low mortgage rates have also made a home purchase more affordable, while rising prices have yielded large home-equity gains in recent years that can be tapped (through a home-equity loan) to use for a down payment.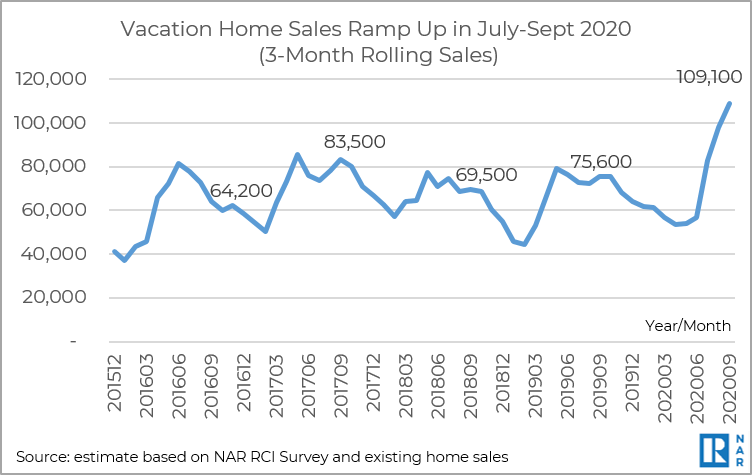 In terms of market share, vacation homes accounted for 6.4 percent of total existing-home sales during July–September, up from the 5 percent share during the same period in 2020 and the historical share since October 2015 when NAR started collecting this information.



























Among the 200 counties that NAR identified as vacation-home counties, 81 percent had year-over-year sales gains. These include counties that contain popular vacation spots such as, Itasca, Minn. (Itasca State Park); Northumberland, Va. (Northern Neck Peninsula of Chesapeake Bay); Summit, Colo. (Breckenridge, Keystone, Frisco resorts); Coconino, Ariz. (Grand Canyon); Windham, Vt. (Stratton Mountain Resort); Barnstable, Mass. (Cape Cod); Warren, N.Y. (Adirondack Mountains); Sussex, Del. (Rehoboth Beach); Cape May, N.J. (Cape May); Brunswick, N.C. (Brunswick Islands); Horry, S.C. (Myrtle Beach); and Lee, Fla. (Manatee Park).

NAR has identified a county as a vacation-home county if at least 20 percent of the housing stock is for seasonal use. Based on this definition, 10 percent of 3,142 counties in the United States are vacation home counties. Most are found in the coastal areas and the Great Lakes.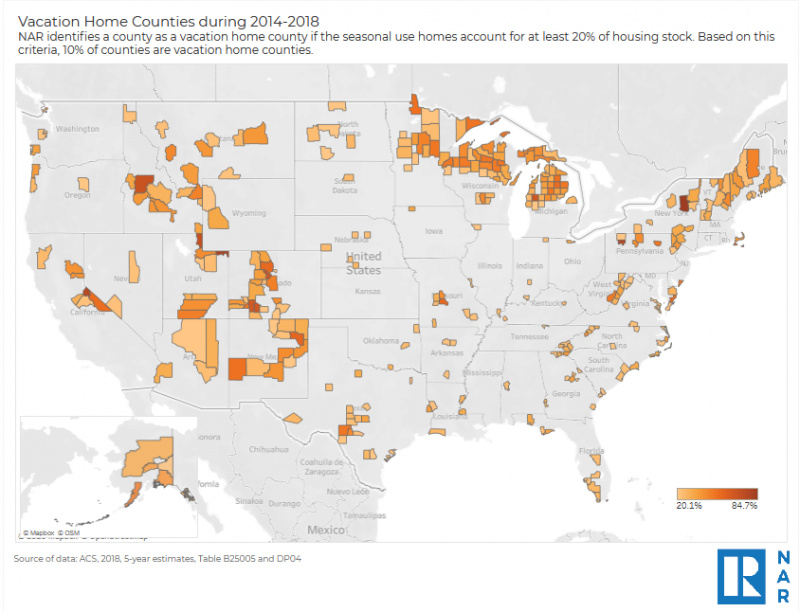 Vacation Homes Sold Faster
Not only did more second homes get sold in the third quarter of 2020, they sold faster compared to historical norms. Of second homes where the sale closed during July–September, 58 percent of those homes sold within one month, a higher fraction compared to 25 percent one year ago and the average of about 30 percent. Nationally, 71 percent of existing homes that closed in September were on the market for less than one month.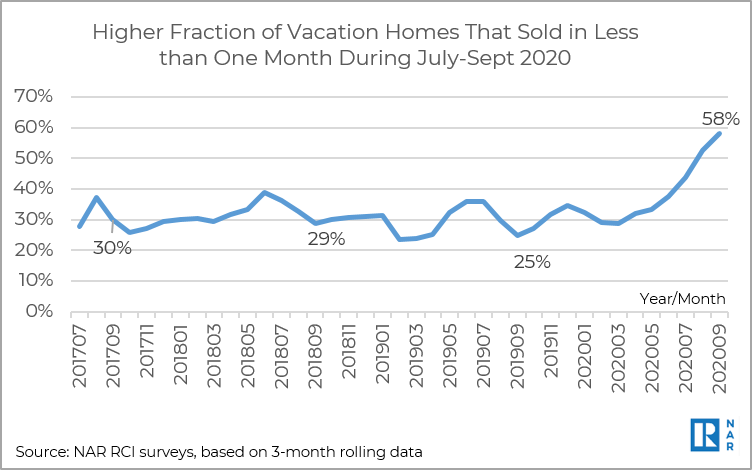 Fewer Foreign Buyers Due to Travel Ban
With the coronavirus travel bans still in place for foreign nationals from China, Iran, the European Schengen area, the United Kingdom, the Republic of Ireland and Brazil, the share of foreign buyers purchasing second homes has declined from an average of about 3 percent to 0.9 percent for the 3-month period of July–September. According to NAR's International Transactions in U.S. Residential Real Estate, Chinese buyers are the U.S. top foreign buyers of U.S. residential real estate, accounting for 12 percent; European buyers make up 13 percent; and Brazilians, 3 percent.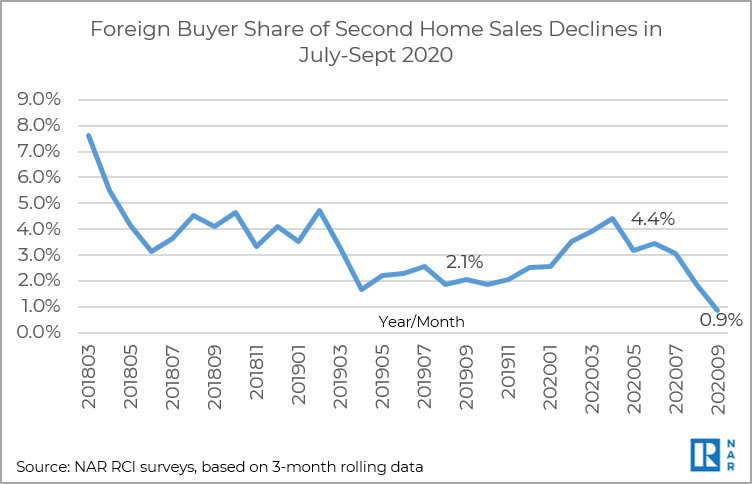 Characteristics of Vacation-home Buyers
Information collected from the monthly REALTORS® Confidence Index surveys from October 2015 through September 2020 reveals the following characteristics of second-home buyers: Second-home buyers are nearly all repeat buyers, have the financial wherewithal to make an all-cash payment, and typically make a down payment of at least 20 percent.

Among all vacation-home buyers:
96% were repeat buyers

49% paid all cash

82% made a down payment of at least 20%

3% were international buyers (non-U.S. citizens)

61% purchased detached single-family homes

89% purchased in a resort area (39%), small town or rural area (30%), or suburb (20%)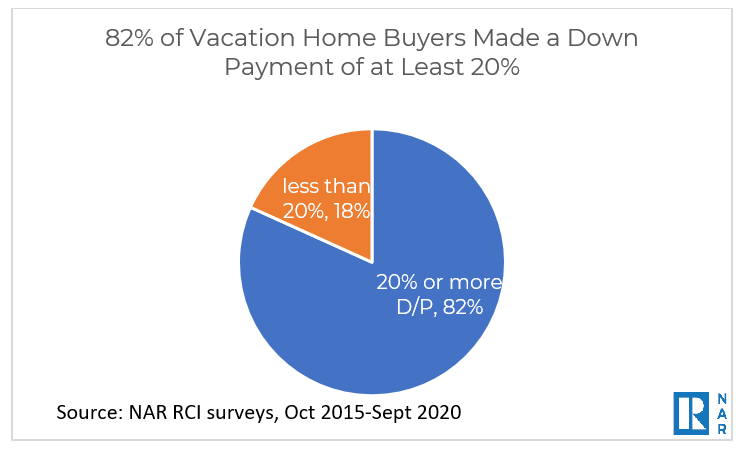 [1] There were 3,507 respondents who reported that buyers who closed a sale during July, August, and September intended to use the property as a vacation home. The survey asked, "What was the intended use of this buyer?" and the answer choices were: 1) primary residence, 2) vacation home for family or friends; 3) investment rental; 4) don't know. The share of vacation-home sales is calculated as number of vacation homes to total responses, measured on a three-month rolling basis. The three-month rolling share is then multiplied by the three month total of the monthly non-seasonally adjusted total existing-home sales.

Gay Cororaton is senior economist and the director of Housing and Commercial Research for the National Association OF REALTORS®
DRE#01266522