Wallpaper Makes a Comeback—Big Time!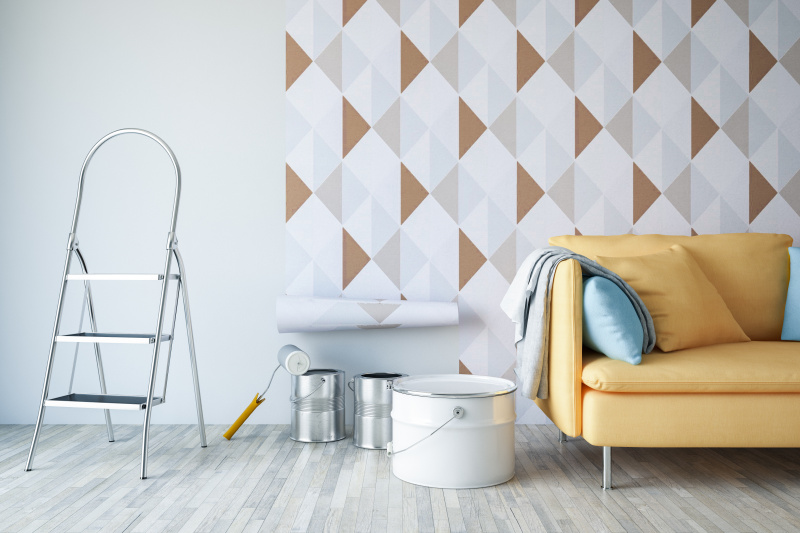 Johnny Depp's bathroom goes wild with an African inspired animal design wallpaper. And the walls of supermodel Kate Moss's lavish home are covered with custom de Gournay wallpapers, some in designs she helped create.

Clearly, these are not your Grandma's wallpapers. They are part of today's amazing collections that can cost hundreds of dollars per roll. But make no mistake, wallpaper is making a comeback and it just may have a place in your décor.

Wallpaper is being used in bold patterns to accent one wall or add personality to an entire room. It's being used in solid hues to add texture as well as color, and it's being used in complementary two-pattern panels to create a DIY headboard in the bedroom.

At an average of $1 - $4 per square foot, with about 35 square feet per roll, wallpaper is more costly than paint—and unless you're a DIYer, it can cost a few hundred dollars to install. But, say decorators, it offers a freedom of expression that is nearly impossible to achieve with paint.

Among the most popular types of wallpaper are:
Vinyl papers: The most popular option due to its versatility in design, it is easy to install, easy to remove and easy to clean, making it great for kitchens, bathrooms and kids' rooms.
Vinyl coated fabric: A popular choice because of its natural feel and texture, it's a durable choice for a sitting room or dining room where texture is a design element.
Non-woven papers: Completely vinyl free, this option is a great choice if you're environmentally sensitive. It's also washable and breathable, easy to install and remove, and available in a wealth of designs.
While there are hundreds, if not thousands of patterns to choose from, decorators suggest beginning by noting the mood you want to create in a room; a damask or floral in muted, pastels for a romantic mood, a bold geometric or larger-scale floral for a contemporary/fashion forward look.

Unless you hire a contractor to do it for you, you will need to measure carefully before ordering your wallpaper—and it's a good idea to order an extra roll. The rule of thumb is to measure each wall and multiply the width by the height of each wall in feet. Then add all the measurements to yield the total square footage and deduct for windows, doors and other large openings.
DRE#01266522